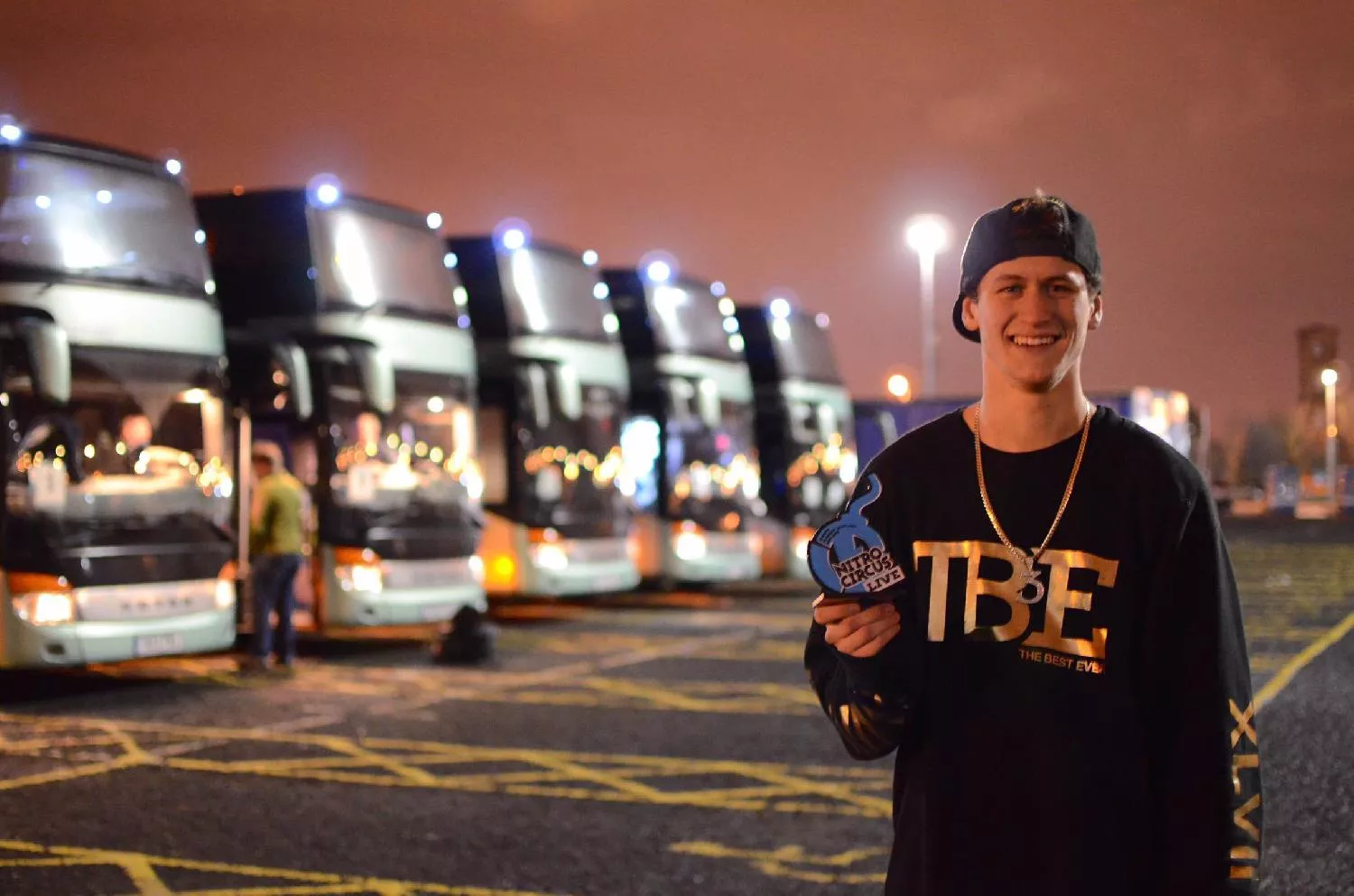 PERSONAL INFO
Full Name: Brandon 'Schmidy' Schmidt
Date of Birth: December 21st 1992
Hometown: Stockholm, New Jersey USA
Height: 6' 1"
Weight: 165 LBS
Shoe Size: 10.5 US
Job: My source of income is riding for Nitro Circus Live, but my job is progressing Action sports.
Sponsors: KHE, Nitro Circus, Launch Snowboards, Woodward Camp, Mountain Creek Ski Resort, Sussex Bike and Sport shop, Industrial Awesome
Started riding: I started my my career in action sports snowboarding when I was 3 years old. I started riding bmx and skateboarding when I was 9, but focused mainly and identified as a skateboarder. I always messed around on my bike, but my goal was to one day become a pro skateboarder. I got my first sponsor snowboarding when I was 16 with Launch snowboards. At 19 I finally decided it was time to make the switch, after ten years identifying as a skater I officially changed to a rider. At 20 I started riding snowboard and BMX for Nitro Circus. At 22 I went pro for Launch snowboards. And now finally at 23 I am very excited to now have my first BMX sponsor of KHE
Injuries:
Broken Collar bone- Nose casing a dirt to dirt hip.
Broken Arm- Skateboarding, slipped out over a box jump.
Broken Arm-Still had my cast on from first break and re broke it jumping an 8 stair.

Broken Collar bone- Snowboard hard way 270 hang up on a rail.

Collapsed Lung- flair to flat on 9 foot quarter, landed with my ribs on the bar end.

Complete Knee Reconstruction- ACL MCL LCL Both sides of meniscus and cartilage damage from too many things to name one.

Dislocated cartilage between ribs- Triple backflip a snowboard over rotated.

Knocked out and concussions for daze!
Riders: I have always been a fan of Jed Mildon, homie invented the Triple flip... My mind was blown that day!
Tricks: Every rider has that trick they are known for, mine is flips! Forward, backward, corked, mini, double, I love pushing myself with flips, I have more trick trick combos upside down then right side up. My gnarliest most notable would be an Aussie Roll (Double Backflip 360) over a 40 foot gap, a straight hop flip off a deck into a bank, and a triple backflip off a 14 foot tall take off. I'm done yet, I have some big tricks to come!
Spots to ride: I've grown up and even lived at Woodward Camp in Pennsylvania and will always choose to ride there over anywhere else, GC Compound in Australia was home for a few months and that place is amazing, but when I'm back home in jersey I love to do fakies all day on the hill in front of my house.
BMX Videos: Drop the Hammer
KHE products: KHE Mac 1 Front and rear tire, KHE Arsenic Fork, KHE Affix Rotor System, KHE seat, KHE Anchor Bars, Alien nation deviant front rim, Alien Nation Runaway rear rim
Food: I eat a plain bacon cheeseburger at least 5 times a week!
Places: Top 5 places I've been starting with #5, Budapest, Hungary #4 Paris France, #3 Gold Coast, Australia #2, Cape Town, South Africa, and #1 Amsterdam, Netherlands.
People: All my Homies at Nitro and all my Homies at Woodward!
Bands: I like a a lot of different artists but G Eazy always kills it!
Books: The Bible
Movies: Nitro Circus' Action Figures!
Website: https://m.facebook.com/nitroschmidty/
5 things you cannot live without: My Bike, My friends, A strong mind, My snowboard, and Good Vibes
Things to do beside bmx: Aside from BMX I also snowboard but also I'm into Volkswagens and vibing with the homies!
Inspiration: I have grown up watch Travis Pastrana, working to be just like him. With out Travis and his send it mentality, I have no idea where I would be today.
Words of Wisdom: Anything is possible, it just takes time, determination and the mind set that no matter what you are taking on that you will succeed. Life is a mind game, keep positive and ambitious and you can accomplish anything! Keep striving for that dream!

Thank you guys, I hope this is what you were looking for! I just want to let you know that I got the package in today and my bike is in build stage, still waiting on a few more parts but it's going to be epic!! I wanted to ask if you have a how to for the Affix? I have the fork metal sleeve, gyro tab, and a cable with a ball at the end. I'm not sure how to set the system up because it seems different from the video of the system online. If you could just let me know with a picture or two would be awesome! Thank you again for everything! Very excited to get this bike finished to start getting content and some new tricks! Hope all is going well!

Brandon